Controle bij de Bergman Kliniek
Vandaag mocht ik op controle bij de Bergman Kliniek. Tijd om de hechtingen eruit te halen en om te kijken of mijn knie er goed uit zag. Nu moet ik zeggen dat mijn knie er niet echt heel goed meer uit ziet, na verschillende operaties zitten er namelijk behoorlijk wat littekens.. Maar volgens de fysio zagen de wonden er goed uit en het vocht begint zo langzamerhand ook weg te trekken. 
Een beetje angstig kwam ik daar toch wel aan, maar ik moet zeggen: ik ben behoorlijk gerust gesteld. De fysio vroeg mij zelfs waarom ik niet meer had gedaan? Kijk, dat zien we graag. Dat betekent namelijk dat ik eigenlijk best wel veel meer mag dan ik dacht 🙂 Dus ik voel me weer een beetje een normaal mens, in plaats van een patiëntje. Ik mocht vanochtend, zitten op de fysio-bank, mijn been lekker laten hangen zodat ik weer wat meer buiging erin krijg. Hoppa slot van de brace af en het resultaat: ik kan weer aan tafel zitten, normaal voor in de auto zitten zonder al te spastisch te doen en nog een aantal dingen waarbij het praktisch is dat je knie kan buigen.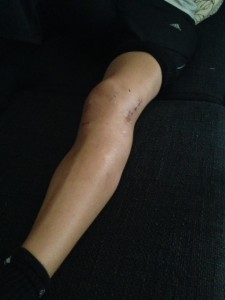 Na de operatie hebben ze me echt verteld niet al te veel te doen. Maar de ergste twee weken zijn nu voorbij en ik heb het gevoel dat ik vooruit ga. Ik ben ook weer begonnen met een paar leuke oefeningetjes die ervoor moeten zorgen dat mijn pudding been weer een beetje spieren krijgt.
Zoals, mits gestrekt, het been heffen. Het lijkt wel alsof ik in die twee weken tijd al mijn spierkracht en controle verloren ben, maar ik heb straks weer tijd genoeg om dat op te trainen. Zoals de fysio vanmiddag zei: 'je wilt toch wel weer over 6 maanden kunnen trainen op het handbal veld?' Ik kon alleen maar antwoorden met: 'I do'.
Hou de komende weken Instagram, Facebook en Twitter in de gaten voor de nieuwste berichten.
---
Checkup at the 'Bergman Kliniek'
Today I went to the Bergman Clinis for a checkup. Time to remove the stitches and to examine if my knee is looking good. Now I must mention that my knee isn't looking that good at all after the earlier surgeries, which means I have a lot of scars.. But according to the physiotherapist the wounds looked nice and my knee is serious getting thinner.
A little bit afraid I arrived in Naarden, but I have to say: I'm quite reassured. The physiotherapist actually asked me why I haven't did more exercises? Look, that's the way I like it. That means that I'm allowed to do more then I thought 🙂 So now I feel a little more like a person again, instead of a patient. This morning I needed to sit on the treatment table and let my legs hang down, so I could bend my left knee. So, he unlocked the brace and final result: I can sit at the table again, I can sit in de front of the car without doing to much spastic things and a I can do a lot more only because I'm now able to bend again.
After surgery they told me to take it very easy. But now the worst two weeks are over and I'm feeling I'm slowly moving forward. I also started with some excercises which should transform my pudding leg into a trained leg again. Like, provided that your leg is stretched, lifting your leg. It seems like I've lost all my muscles and control of my knee in only two weeks, but soon I'll have time enough to train that again. Like the physiotherapist asked this afternoon: 'you do want to be back on the training field in 6 months?' I could only answer:
'I do'.
Keep an eye on my Instagram, Facebook and Twitter in the next few weeks, so you know when the newest posts are there.