Stabiliteit, hometrainer en nog maar één kruk
Sinds ik vorige week vrijdag op de fiets ben gestapt gaan de laatste loodjes van de eerste 6 weken toch vrij snel.. Ik mocht afgelopen week (4 weken na de operatie) dus beginnen met fietsen. Nu kon ik al wel tot 90 graden buigen, maar fietsen is toch echt een mentaal dingetje: je moet namelijk rond komen met die trappers. Nadat ik eerst even rustig een paar minuutjes achteruit had gefietst, heel vreemd maar dat lukte wel meteen, kwam ik toch ook echt vooruit. Zonder pijn, zonder problemen. Ik had gedacht dat ik het weekend erna nog wel wat reactie in de knie zou krijgen, maar die bleef gelukkig uit!
Daardoor zat ik vanmiddag al weer op de fiets, deze keer zonder kniebrace. En dat ging een stuk relaxter. Lekker even tien minuutjes gefietst na het behandelen en vervolgens mocht ik wat stabiliteits-oefeningen gaan doen. Heel voorzichtig, met de brace om, op mijn linkerbeen staan. Wat echt heel erg vreemd voelde na zo lang niet lopen. Het begin was natuurlijk best een beetje eng, maar het viel allemaal reuze mee. Het enige waar ik voor moet zorgen is dat mijn been niet in één keer in de (over)strekking komt.
Nu heb ik voor thuis de huiswerkopdrachten gekregen om twee keer per dag tien minuutjes te gaan fietsen, dus het wordt morgen de hometrainer ophalen 🙂 En bovendien om in huis met één kruk te gaan lopen. Wat een verademing is dat zeg.. En het went gelukkig heel snel om weer 'normaal' te lopen. Nu kan ik tenminste weer dingen vasthouden en meenemen tijdens het lopen. Komende week gaan we wat beginnen met oefeningen om de spierkracht weer rustig terug te krijgen. Ook wordt die ene kruk langzaam afgebouwd tot geen kruk. En dan kan het hardlopen bijna beginnen! 🙂
Eerst morgen nog verhuizen, alle spullen uit Oldenburg halen en mijn auto inleveren. Een mooie periode die nu echt wordt afgesloten.
Hieronder nog het krantenbericht van afgelopen zaterdag uit het dvhn.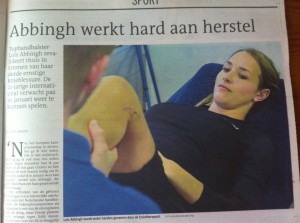 ---
Stability, hometrainer and only one crutch
Since I started last Friday on the hometrainer, it really feels like this first period of doing nothing is coming to an end. Last week (4 weeks after surgery) I was allowed to start on the hometrainer. I was able to bend until 90 degrees, but still riding a bike seems to be a kind of mental thing: the pedals of the bicycle has to go round and round.. After a few minutes doing reverse cycling, weird but that was not a problem at all, I succeeded in moving forward. Without any pain, without problems. I really thought that I would get some reaction in my knee during the weekend, but I didn't!
And therefore I sat on the hometrainer again today, this time without the brace. And that is way better. I did ten minutes on the hometrainer after some treatment from the physiotherapist and after that I started with some stability exercises. Very careful, with the brace, standing on my left leg. It felt really weird because of such a long time without walking. Off course I was a little bit afraid in the beginning, but it was not bad at all. The only thing I have to take care of is that I won't make a complete extension of my leg.
Now I received some homework assignments: I have to be on the hometrainer twice a day, for about ten minutes. So tomorrow we have to get the hometrainer to our house 🙂 And inside the house I'm allowed to walk with only one crutch. And that really is a relief. I also get used very fast to 'normal walking' again. But the biggest advantage is that right now I can walk and carry something with me. This week we'll start with some exercises to slowly build up the muscles again. And off course the goal is to walk without any crutches. Then the jogging can almost begin! 🙂
Tomorrow I'll get all my stuff from my home in Oldenburg and we will bring it back to Holland. I also have to bring my car back. A very nice chapter of my life will be really closed then.
Above the article from the newspaper about my recovery. It was in the newspaper last saturday.