Vier jaar lang heb ik bij VfL Oldenburg gespeeld, ongeveer 140 km verderop van huis. Een perfecte eerste buitenlandse uitdaging en voor mij absoluut de juiste keus geweest. Ondanks dat de club het financieel zwaar heeft gehad, heb ik vier jaar lang in een goed team bij een super club gespeeld! Met als hoogtepunt het winnen van de Duitse beker in 2012. Dat zal ik mijn hele leven niet meer vergeten 🙂 Maar aan dit avontuur gaat nu een einde komen. Vandaag was het afscheid nemen van de club, de fans en het team. 
Een aantal maanden geleden heb ik bij Oldenburg al aangegeven te willen vertrekken om sportieve redenen. Ik wil meer en weet dat ik nog meer kan bereiken in mijn carrière. Ik wil mijn droom achterna, namelijk van waarde zijn in de Champions League. Helaas gooide de blessure natuurlijk een beetje roet in het eten, maar wie weet dat ik de komende weken nog wat nieuws kan melden qua overstap..
En anders is het nog een optie om in Nederland te revalideren en een paar maanden later hopelijk die gedroomde transfer te pakken.
In ieder geval was het vandaag afscheid nemen. Prachtig om de fans zo te bedanken en de cadeau's waren ook niet mis 😉 Maar daar ging het natuurlijk niet om. Ik zal Oldenburg zeker missen, en dan voornamelijk best friend Tess 🙁 , maar ik houd iedereen daar zeker in goede herinnering. Maar het is nu tijd voor wat nieuws, en dat heb ik mede bereikt door VfL. Danke!!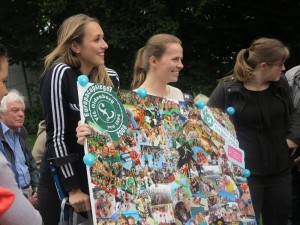 ---
All good things come to an end
The last four years I've played in Oldenburg, about 140 kilometer from my hometown. A perfect first experience in my handbal career abroad and defenitely the right choice. Althought the club had some serious financial problems, I played every year in a top team at a great club. With off course winning the German Cup in 2012 as absolute highlight. I will never forget that 🙂 But now this adventure has come to an end. Today was saying goodbye to the club, the fans and off course the team. A few months ago I told to the club that I would leave Oldenburg, off course only for my sportive development. I want more and I know that I can achieve more in my career.
I want to chase my dream, playing in the Champions League and be a valuable player. Unfortunately my injury threw a spanner in the works, but maybe I can announce some news regarding my transfer in the next few weeks.. And otherwise I will stay in Holland to recover from my knee injury and have the dream transfer a few months later.
But well, today was saying goodbye. Wonderful to thank the fans for their support and the gifts weren't bad at all 😉 But that was obviously not the point. I will certainly miss Oldenburg, and most of all best friend Tess 🙁 But I will keep everybody in good memory. Now it's time for something new, which I achieved because of VfL. <em>Danke!! </em>